Mr. Heryer's philosophy for working with students and parents is to tailor the process to the individual needs of the student and family.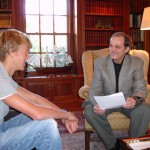 Stage I, is an initial consultation which defines the needs of the student and family and determines the commitment to completing the remaining sessions of Stage I. Subsequent sessions involve conferring with the student individually in order to encourage the student to take ownership of the selection process. Additional sessions with the student involve crafting a personal resume to portray the student effectively in the process. Stage I concludes with a session that includes the parents to establish mutually agreed upon parameters for Mr. Heryer to use to draft a research list.
Stage II, begins with the presentation of an initial research list of institutions which should be good matches for the student based upon the foundation laid in Stage I. A sufficient number of consultations will be provided as needed to complete all elements of the program after payment of the fee for Stage II.
The overall goals of both stages are:
To help students develop greater comfort and confidence with the selection process.
To enhance the student's relationship with the high school counselor.
To reach mutual agreement upon guidelines and objectives for completing the selection process.
To provide access and availability for counseling when needed.
For more information about College Planning services, contact James Heryer.
Be sure to Check out what Students and Parents have said after going through the program.